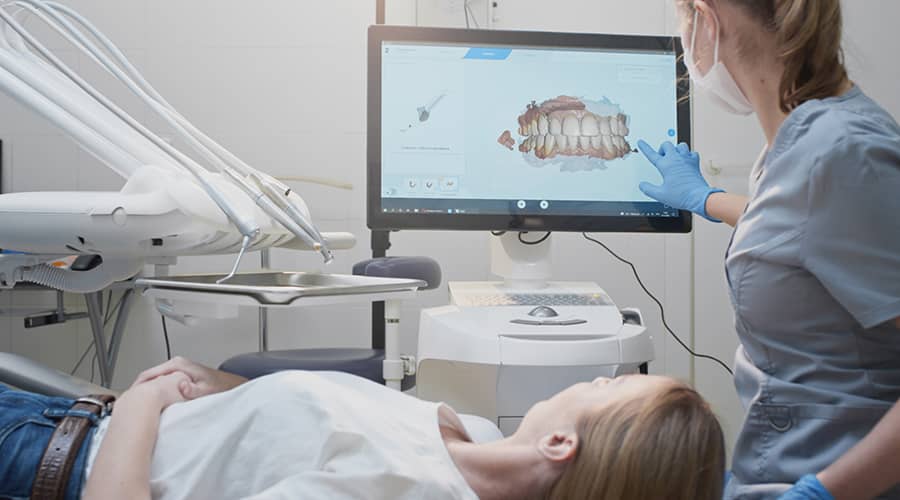 Digital Smile Design is a comprehensive approach to dentistry that focuses on designing and reconstructing the smile in a way that perfectly complements the patient's facial features. This process helps the patients to see the potential outcome and be part of the smile design process. This cutting-edge technology utilizes advanced digital tools such as Cone Beam CT Scans, Intra Oral Scans, Digital Diagnostic Wax Up's, Facial Imaging, and Computer Guided Preparations to create a custom-designed smile that reflects the patient's individual characteristics.
Our Digital Smile Design service begins with a comprehensive consultative process, where we consider the patient's facial features and other clinical factors to design an ideal smile. We then use our advanced digital tools to virtually test drive the restoration before preparation. Once the diagnostic phase is complete, our team of experts digitally fabricates temporary restorations. Computer guidance is utilized to further prepare the patient for the final restoration.
The final restoration process involves digital impressions, photogrammetry, and CAD/CAM technology to ensure precise fabrication. This advanced service enhances outcomes both functionally and aesthetically and can be used for dental treatments like conventional crowns and bridge restorations, dentures, and sophisticated dental implant therapies.
Crowns and Bridge Restorations
Our team can fabricate crowns and bridge restorations with precision by using high-resolution imaging, advanced computer software, and CAD/CAM technology. This technology ensures that the restoration fits perfectly in the patient's mouth, providing maximum comfort and functionality. 
Dentures
Our Digital Smile Design service utilizes digital impressions, custom-designed wax-ups, and advanced technology to create dentures tailored to patients' needs.  This allows us to produce high-quality full and partial dentures that perfectly complement the patient's facial features. 
Dental Implants
Our Digital Smile Design service can be utilized for very sophisticated dental implant therapies, providing our patients with beautiful and functional restored smiles. We use computer guidance for procedures such as guided surgeries and digital impressions to ensure that the implant is placed with accuracy and precision. 
Our Digital Smile Design service is customized to every patient's needs – providing them with a beautiful, functional smile that perfectly complements their facial features. With this innovation in dentistry, our team of experts can provide the highest quality restorations, giving our patients a true cause for smiling.
Dentist Buffalo Grove IL
If you want to learn more about how Digital Smile Design can benefit you and your smile, contact us today to schedule an initial consultation with one of our experienced dentists. Contact Morris Dental Solutions at (847) 215-1511 or complete the online booking form.
If you are searching for a dentist near me, visit Morris Dental Solutions to see why we are the best dentist in Buffalo Grove, IL.  We proudly serve the communities of Barrington, Highland Park, and Arlington Heights.
We look forward to helping you turn your dental dreams into reality!
Call Us
FAQ
What Is a Cone Beam CT Scan?
A cone beam CT scan is an advanced imaging technique used in Digital Smile Design. It produces 3D images of the patient's mouth, which dentists use to diagnose dental concerns and plan treatments accurately.

What Is Intra Oral Scanning?
Intra Oral Scanning is a digital impression technology that creates a three-dimensional image of the patient's mouth. This image is used to fabricate custom restorations and can be done in a matter of minutes – eliminating the need for traditional impressions.


What Is a Digital Diagnostic Wax-Up?
A digital diagnostic wax-up is a virtual model designed using computer software and imaging. This allows us to design an ideal smile for the patient before treatment begins, allowing them to visualize the outcome of their restoration.

What Are CAD/CAM Restorations?
CAD/CAM (Computer-aided Design/Computer-aided Manufacturing) restorations are custom-made prosthetic devices designed using computer software and milled from a block of dental material such as porcelain or zirconia. This results in precise, highly esthetic restorations that fit perfectly for maximum comfort and function.

What Are the Benefits of Digital Smile Design?
The benefits of Digital Smile Design include improved accuracy, enhanced aesthetics, increased comfort, and improved results. By utilizing advanced digital tools, our team can fabricate high-quality restorations tailored to the patient's individual needs – giving them a beautiful, natural-looking smile.