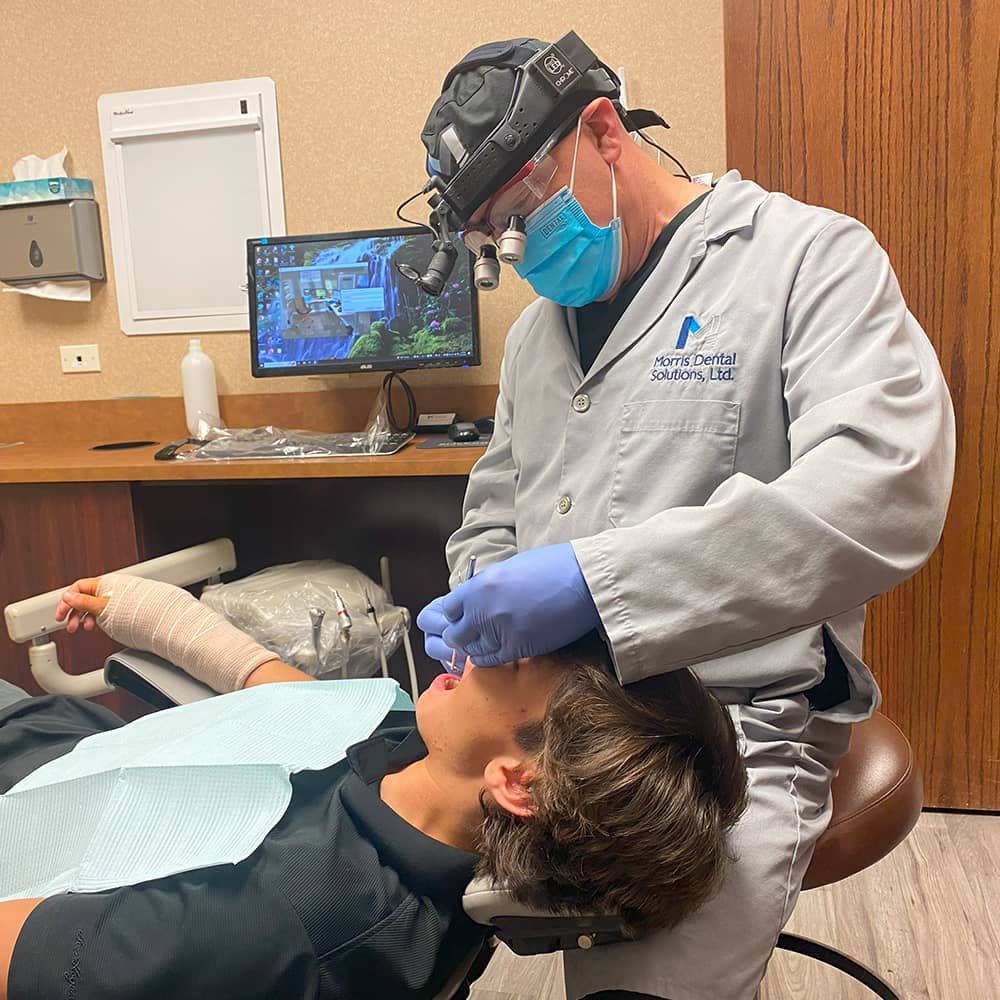 Smile With Confidence
At Morris Dental Solutions, we provide comprehensive dental care in a welcoming and warm atmosphere. We are dedicated to providing high-quality services with patient satisfaction and safety as our top priority. With cutting-edge technology and highly skilled professionals, you can trust us to help you achieve the smile of your dreams.
Our mission is to provide a comprehensive and comfortable dental experience that makes our patients feel safe, secure and cared for. We strive to stay up-to-date on the latest advancements in dentistry so we can bring you the best possible care at an affordable price. From general dentistry services such as cleaning and exams to more advanced options like implant restorations and cosmetic dentistry, we are here to provide you with the highest quality of care.
We offer a wide range of aesthetic services such as teeth whitening, porcelain veneers, bonding, and inlays and onlays so you can confidently show off your beautiful new smile. Our team takes the time to get to know our patients and understand their unique needs so that we can create personalized treatment plans tailored to each individual.
Comprehensive Dentistry
We are proud to have experienced dentists and specialists such as a prosthodontist and an endodontist on staff to serve you. Owner, Dr. Gary Morris, DDS, is a leading Buffalo Grove prosthodontist whose impact on the dental community has been felt far and wide. He is an innovator in the field of implant dentistry, with numerous manufacturers seeking his expertise to improve their products. Dr. David Rosenbaum is an expert in the field of endodontics and a member of the American Association of Endodontists. Dr. S. Spina is residency trained and has been practicing dentistry for over 20 years emphasizing family dentistry.
Dental Technology
We use advanced dental technologies and techniques to ensure our patients are as comfortable as possible. Our equipment includes CAD/CAM technology, Cavitron ultrasonic scalers, Cone Beam imaging, and digital x-rays. Using modern technologies allows us to provide our patients with the most accurate diagnosis and the best possible treatment options.
Financing and Insurance
We understand that dental care can often be expensive, so we strive to make it as affordable as possible for our patients. We accept all major insurances, including out-of-network benefits. Dr. Spina and Dr. Rosenbaum are in-network with Delta Premier. Dr. Morris is not in-network. We also offer long-term financing options through The Lending Club.
Morris Dental Solutions: Redefining Quality Care for Modern Patients
At Morris Dental Solutions, we are redefining how dentistry is done with quality care and modern technology. We strive to provide the best patient experience with a focus on convenience and comfort. Our experienced professionals are committed to providing superior care and unparalleled service. Whether you're looking for cosmetic dentistry, preventive services, or standard dental procedures, you can trust that you'll be taken care of at Morris Dental Solutions. Visit us today, and let us help you achieve the smile of your dreams!
If you are looking for a dentist near me, contact Morris Dental Solutions at (847) 215-1511 or complete the online booking form. We proudly serve the communities of Barrington, Highland Park, Arlington Heights, Buffalo Grove, Long Grove, Deer Park, Vernon Hills, Deerfield, Northbrook, Lake Forest, Kildeer, Hawthorn Woods, Palatine, Wheeling, and Libertyville.
Our Office
We are located at 195 N Arlington Heights Rd. Suite 160, Buffalo Grove, IL 60089.