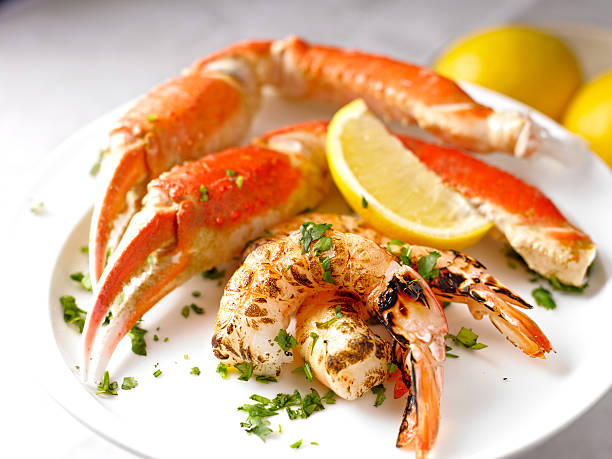 Fluoride is a topic that dentists frequently discuss, and for good reason! Fluoride is a mineral that has been shown to improve tooth strength, prevent cavities, and reduce sensitivity. Fluoride is added to many municipal water supplies for this reason. It's also in toothpaste, mouthwash, and floss. But did you know that fluoride occurs naturally in a variety of foods and beverages? Let's talk about natural fluoride sources and how to make sure you're getting enough to prevent cavities.
Seafood
Crab legs and shrimp are not only delicious and fancy delicacies, but they are also among the best natural sources of fluoride.
Wine, juice, raisins, and grapes
Grapes contain fluoride no matter how they are tossed, sunned, or squeezed. Raisins are one of the richest sources of natural fluoride, but they can also be high in sugar, which is bad for your teeth. White wine contains twice as much fluoride as red wine, so the amount of fluoride can vary greatly depending on the source, but no matter how you choose to enjoy grapes, you'll be adding natural fluoride to your diet, which is a good thing!
Fruit
Many types of fresh fruit are excellent natural sources of fluoride. However, the fruit should be eaten raw. Fluoride-containing fruits include apples, peaches, strawberries, bananas, watermelon, cherries, and a plethora of others.
Potatoes
Potatoes are a great source of fluoride because, like grapes, they can be eaten in a variety of ways! Russet potatoes contain the most fluoride, but any variety will provide some fluoride.
Black tea and coffee
Coffee and black tea both naturally contain fluoride, and if your city's water supply contains added fluoride, brewing with tap water can double the fluoride dose in your drink!
Water that has been fluoridated.
According to EPA regulations, approximately three-quarters of U.S. water utilities add fluoride to their drinking water supply. The federal government currently recommends 0.7 milligrams of fluoride per liter of water as the optimal balance of maximum tooth decay protection and minimal risk of dental fluorosis. You can find out if and how much fluoride is added to your local water supply by contacting your local water company.
Discussing fluoride with your dentist
If you want to strengthen your teeth and prevent cavities, talk to your dentist about fluoride and the best ways to incorporate it into your diet and routine. Your dentist may also recommend a concentrated fluoride treatment that can be applied after a cleaning to help ensure that your teeth absorb enough fluoride to protect and strengthen your teeth. Please contact our dental office for more information or to schedule an appointment.
Morris Dental Solutions of Buffalo Grove
195 N Arlington Heights Rd #160