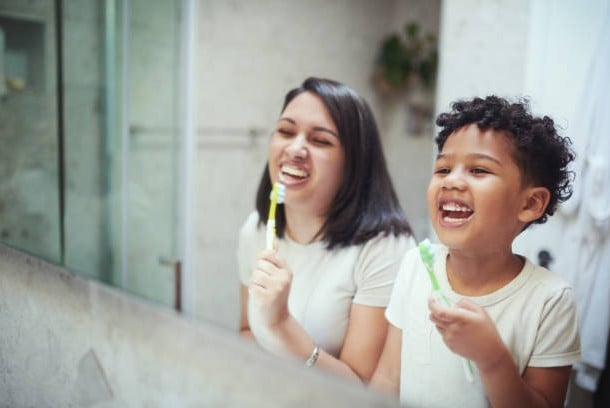 The chances are that you brush your teeth twice a day if you are conscientious about your oral hygiene. You may even brush after meals since you know that regular tooth brushing is a good habit that removes plaque and prevents tooth decay. Maybe you're wondering, "Can you brush your teeth too much?" As it turns out, when it comes to brushing your teeth, there can be too much of a good thing.
Overbrushing your teeth refers to both "how much" and "how" you brush. If you brush too vigorously or compulsively, you put your mouth at risk for dental abrasion, dental sensitivity, and gum recession.
Abrasion
According to the University of Southern California Herman Ostrow School of Dentistry, dental abrasion is the loss of tooth structure caused by mechanical forces from a foreign object. The enthusiastic use of your toothbrush wears away the tooth enamel and eventually the softer dentin and cementum structures. Abrasion is characterized by worn, shiny, and often yellow or brown spots on the surface of a tooth near the gum line. A wedge-shaped or V-shaped indentation on the gum line is another sign of abrasion.
Tooth Sensitivity
If the tooth enamel is worn away by toothbrush abrasion, the dentin layer's nerve endings become exposed or close enough to the surface to cause tooth sensitivity. You may experience discomfort or pain when your teeth are exposed to hot, cold, sweet, or sour stimuli or when you brush your teeth.
Gum Recession
Continually overbrushing and brushing improperly may also cause your gums to recede. The softer cementum of the root is exposed and vulnerable when this occurs. The exposed cementum is not only prone to wear and notching, causing sensitivity and pain, but it is also more likely to decay.
How to protect your teeth after overbrushing
Dental abrasion and gum recession can lead to cavities and even tooth loss if not treated. Depending on the degree of toothbrush abrasion and tooth sensitivity, your dentist may recommend treatments to cover the exposed dentin and protect the tooth. Some common treatments include applying a fluoride varnish to strengthen the teeth's surface, bonding a tooth-colored filling over the abraded area, or covering the exposed area with a veneer. Overbrushing may cause your gums to recede so far that they may never return to their original size. In some cases, gum grafting might be needed to replace missing gum tissue and protect exposed cementum.
Using the Proper Brushing Technique and Tools
Fortunately, preventing overbrushing is as simple as using the correct technique and tools. Start by following these steps:
Brush your teeth with a soft-bristled toothbrush. You may think that stiff bristles will do a better job of cleaning your teeth. However, they increase the risk of dental abrasion and gum recession.
Be sure to check your toothpaste. Toothpaste with high abrasive agents may also speed up the process of tooth loss. Choose a toothpaste that contains calcium and fluoride to strengthen your tooth enamel.
Make sure you are using the right technique. Are you brushing too hard? Look at your toothbrush. Using too much pressure might cause your bristles to flatten and fray within a few weeks. Place your toothbrush gently at an angle towards your gum line and brush in a soft circular motion.
Do not brush immediately after eating. You should wait at least 60 minutes after eating or drinking to brush your teeth, especially after consuming something acidic like lemons or soda. While you wait, drink water or chew sugarless gum to freshen your breath.
Take a look at your other habits. Overbrushing isn't the only source of abrasion. As an example, suppose you routinely open bottles with your teeth, handle nails or pins with your mouth, or bite your fingernails. In that case, those activities might also cause dental abrasion or even a broken tooth. Enamel can also be worn away by lip or tongue piercings.
When it comes to a perfect smile, overbrushing won't help. You will achieve clean teeth and a healthy mouth when you use the appropriate tools and implement a gentle but thorough brushing technique. Contact our dental office today to schedule an appointment.
Morris Dental Solutions of Buffalo Grove
195 N Arlington Heights Rd #160